FireShot Pro is advanced version of this popular extension for Firefox, Internet Explorer, Seamonkey and Thunderbird.
Switch your FireShot into Pro mode and you will get :
Multi-editor interface. Switch betweens captures, use clipboard to exchange annotation objects between them.
Organizing files into projects. Everything can be stored as a project without anything being lost. You can re-load it and continue your work exactly at the place you stopped previously.
Uploading to Flickr, Google Picasa, ImageShack and EasyCaptures.Use these services to store your captures at image hosting engine.
Easily customized uploads to FTP and HTTP servers. For example, you can automate the bug-tracking engine you're using, or simply store images at your server.
Saving and Loading graphic files.For example, you can add comments to photos by dragging and dropping them onto the Editor. They will be opened automatically.
Unlimited Undo. Don't be afraid of experiments - everything can be rolled back!
Work with clipboard. Copy any bitmap to your clipboard in your favorite editor or take a screenshot by pressing Print Screen and open it in FireShot in two clicks. Have a nice screenshot in Internet Explorer? Now you can easily transfer it to FireShot. With FireShot you can edit anything that can be copied to your clipboard!
Independent window. You don't need to close FireShot's editor to continue navigation. Now you can surf and capture webpages without simultaneously.
Printing. Browsers sometimes do not print documents exactly as you want them to. FireShot Pro will give you the exact printout you want.
Custom bitmaps for watermarking.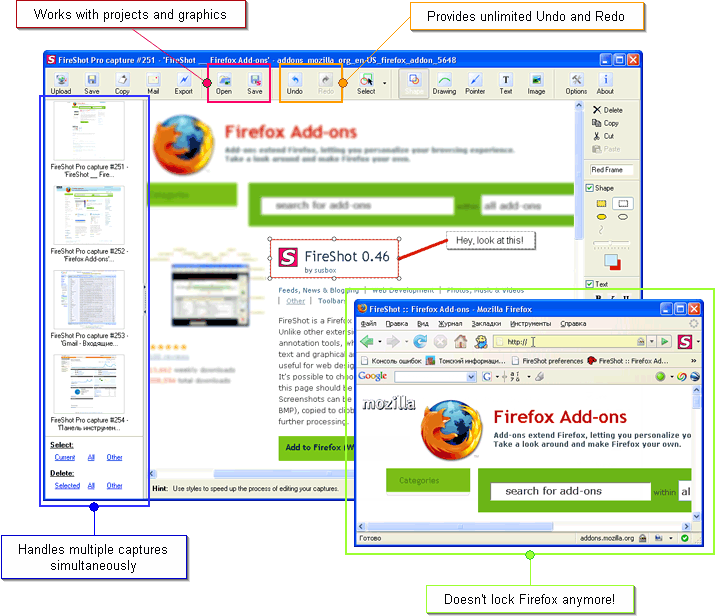 "Very Useful!!! This has to be the most useful plugin ever! It's so easy to clip what I want from a screen, add comments or arrows (with choice of colors!) to the screen, then push a button to send it via email. I can also save the clip to disk. Since I provide a lot of on-line support to beginners, this is the perfect tool for me."
(more testimonials...)
MaryLou White, www.pircnet.com
Already have FireShot installed in your browser? Then switch it into Pro mode in one click!
You don't need to download anything to upgrade from the Free to the Pro version of FireShot. Just click "Switch to Pro! " in context menu of FireShot's tool button (Firefox or Internet Explorer browsers) or switch to Pro inside of FireShot editor.
Try it for 30 days with no limitations!
You'll love it. FireShot Pro costs $34.95 but if you don't want to pay for it, it will automatically switch into simple mode in 30 days. You won't lose anything except advanced features provided by FireShot Pro. FireShot simple is still free and it will be yours forever.
In case of you haven't got FireShot still.
In case of you're already in love with it.
We're so confident that FireShot Pro will be exactly what you want from
a screen capture tool that we offer a 30 day money back guarantee.



HOT OFFER only this week:

40% discount:

$59.95 $34.95 USD per copy. One-time fee. Volume discounts available!